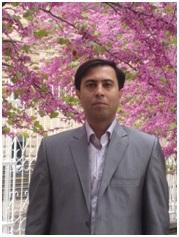 Hojjat Ahsani Tehrani
Assistant Professor Faculty of Mathematical Sciences
Phd Numerical Analysis ( control)
Yazd university
Fuzzy Control, Interpolation , finding complex roots, determination eigenvalues, 2D systems, Positive systems. Rejection disturbance, Time delay systems.
Iranian Mathematical Society

I received my BSc in Applied Mathematics in 1998, MSc in Applied Mathematics (Numerical Analysis) in 2000 from Yazd University, and PhD in Applied Mathematics (Control) from Yazd University in 2009. I am an assistant professor of Applied Mathematics and Control in Shahrood University of Technology. my current research interest are numerical analysis, control theory, and control of discrete-time linear systems.