Faculty of Mechanical Engineering
Welcome to the faculty of Mechanical Engineering of Shahrood University of Technology, one of the top mechanical engineering faculties in northeastern part of Iran with a nearly two decades history and a strong, clear vision for the future. The "Faculty of Mechanical and Mechatronics Engineering" of "Shahrood University of Technology" was established at 1999 as one of the main schools of this prestigious university. Over almost 20 years of continuous and valuable effort on education and research, attraction of the highly qualified faculty members along with the elite students were among the most significant activities of this faculty all over the years. Faculty of mechanical engineering was established by training of students in the field of fluid mechanics at undergraduate level in 1999 and developed its activities to the higher levels in all of the fields covered by the mechanical engineering. The faculty of mechanical engineering excels and takes much pride in our education efforts, allowing students to gain unique study experiences both in Ann Arbor and abroad prestigious universities. Faculty of mechanical engineering has now 36 faculty members including 3 full professors, 12 associate professors and 21 assistant professors together with the faculty staff with high specialties at the affairs related to the education, research, workshop and laboratory programs. Now, the main fields of mechanical engineering is being covered in this faculty including solid mechanics, fluid mechanics and mechatronics at both undergraduate and graduate levels (including PhD) in the wide variety of specialized fields in the areas of manufacturing and production, aerospace engineering, energy systems, stress analysis, dynamics and vibration and other multi-disciplinary fields. Faculty is now training students at all levels including PhD in the fields of solid and fluid mechanics, master level in the field of solid mechanical, fluid mechanics, manufacturing and production processes, mechatronics engineering, aerospace engineering and energy systems along with the bachelor of science level in mechanical engineering by provision of the basic and advanced infrastructure, workshops, computer laboratory, and specialized research-based laboratories managed by the faculty members. Over 887 students are now studying in the faculty of mechanical engineering including 119 at PhD, 294 at master and 474 at the bachelor levels. List of the active workshops and laboratories can be elaborated as follows: 1. Thermodynamics laboratory. 2. Fluids mechanics laboratory. 3. Dynamics and vibration laboratory. 4. Mechanics of materials laboratory. 5. Auto-mechanics and automotive engineering laboratory. 6. Machine tools workshop and, 7. Welding and sheet metal workshops. Also, the research laboratories of the faculty can be expressed as follows: 1. Visualization and tracking laboratory. 2. Mechanical properties of materials laboratory. 3. wind tunnel laboratory and, 4. Power-plant laboratory. In summary, the faculty of mechanical engineering is thriving, making significant contributions to research, education and many other aspects of society. Building upon such excellence, our faculty is actively defining and shaping the future of mechanical engineering.
Tell:
023-32300258
Ext.Tell:
3340
Email:
mechanical@shahroodut.ac.ir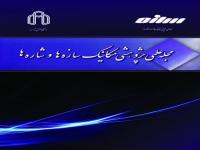 مجله مکانیک سازه ها و شاره ها آمادگی انتشار مقالات تخصصی در کلیه زمینه های مهندسی مکانیک و مباحث میان رشته ای مرتبط با این شاخه علمی را دارا است. لذا از کلیه اساتید، دانشجویان، پژوهشگران و فعالین صنعت دعوت می شود که حاصل تحقیقات جدید، پژوهش های بنیادین و ایده های نو خود را جهت انتشار به این نشریه ارسال نمایند. شایان ذکر است که این مجله دارای رویکرد یکسان در دعوت از تحقیقات دارای جنبه عددی، تحلیلی و آزمایشگاهی است. همچنین امکان انتشار مقالات جدید در زمینه روشهای عددی و تحلیلی (شامل هر دو دیدگاه معین و تصادفی) در مهندسی مکانیک فراهم شده است. در پایان خاطر نشان می شود که سیاست اصلی این مجله بر تسریع فرآیند داوری و تعیین تکلیف مقالات در حداقل زمان ممکن استوار شده است. پژوهشگران محترم می توانند برای دریافت اطلاعات بیشتر به آدرس اینترنتی مجله به نشانی jsfm.shahroodut.ac.ir مراجعه فرمایند.