Faculty of Mathematical Sciences
Dean of the faculty: Dr. The field of mathematics in the form of different majors such as Teaching Mathematics, pure mathematics and applied mathematics continued its educational activity in the faculty of science from 1994 until 2005 as a mathematics department. In 2005, with the approval of the Ministry of Science, Research and Technology, the Faculty of Mathematical Sciences of Shahrood University of Technology was formed and got separated from the Faculty of Basic Sciences, consisting of two teaching groups of pure mathematics and applied mathematics, statistics. After twenty-five years, this faculty has a suitable scientific and research potential, with the establishment of various bachelor's, master's and doctorate courses and the recruitment of the required academic staff. Currently, 28 faculty members, 3 full professors, 15 associate professors, 9 assistant professors, and 1 instructor are engaged in the education and training of more than 400 undergraduate students, more than 50 master's students, and 70 doctoral students. The fields of study available in the Faculty of Mathematics are 1- Mathematics and Applications (Bachelor) 2- Mathematics 2- Pure mathematics (Master's degree-PhD) 3- Applied Mathematics (Bachelor's degree-Master's degree-PhD) 4- Mathematical statistics (Bachelor's degree-Master's degree-PhD) 5- Computer science (Bachelor's degree). Over the past years, the Faculty of Mathematics has been a worthy and active participant in student mathematics competitions under the supervision of the Iranian Mathematical Association and has always succeeded in winning silver and bronze medals, and in terms of a team work , it has also succeeded in ranking 8th to 10th among more than 36 universities in the country. The Faculty of Mathematics 's Successful hosting of mathematics, statistics and operational research conferences are among the honors of this faculty. Currently, this faculty's journal, the Journal of Algebraic Systems, is indexed in Scoups with a scientific-research grade of A.
Tell:
023-32300235
Ext.Tell:
3330
Email:
math@shahroodut.ac.ir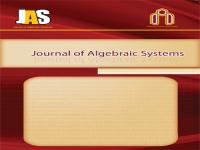 The Journal of Algebraic Systems (JAS) is a publication of the Shahrood University of Technology in English. JAS is an international mathematical journal founded in 2013. It publishes high-quality original research articles in the following topics: Algebra, Linear Algebra and its applications in all branches of Mathematical Sciences and Statistics, Numerical Linear Algebra and Optimization, Algebraic Combinatorics, Algebraic Geometry, Algebraic Number Theory, Algebraic Topology, Fuzzy Algebra, Combinatorics, Coding Theory, Cryptography and Banach Algebras. JAS is an international open access journal. There is no publication charge. JAS publishes 2 issues in each year.